CLDX (Celldex Therapeutics) Stock Poised For Bottom Breakout
6/6/2016, a StockConsultant.com news release : CLDX (Celldex Therapeutics) (quote 4.86 +0.3,+6.6%) stock has had a recent price drop and gap down due to the failure of a brain cancer test. It has since recovered some and is poised for a bottom breakout. The stock currently sits at 4.75 double resistance formed two months ago with a breakout watch above 5.11 and price target of 6.77, (+39.3%) which would fill the upside gap with a healthy gain.
CLDX is a biotech company with 199 employees and market cap of $450 million. Its products include therapeutic antibodies, antibody drug conjugates, vaccines, and immune system drugs. The symbol is listed on the NASDAQ stock exchange with typical daily volume of about 3 million+ shares a day and the stock price currently is close to the 52 week lows.
CLDX Chart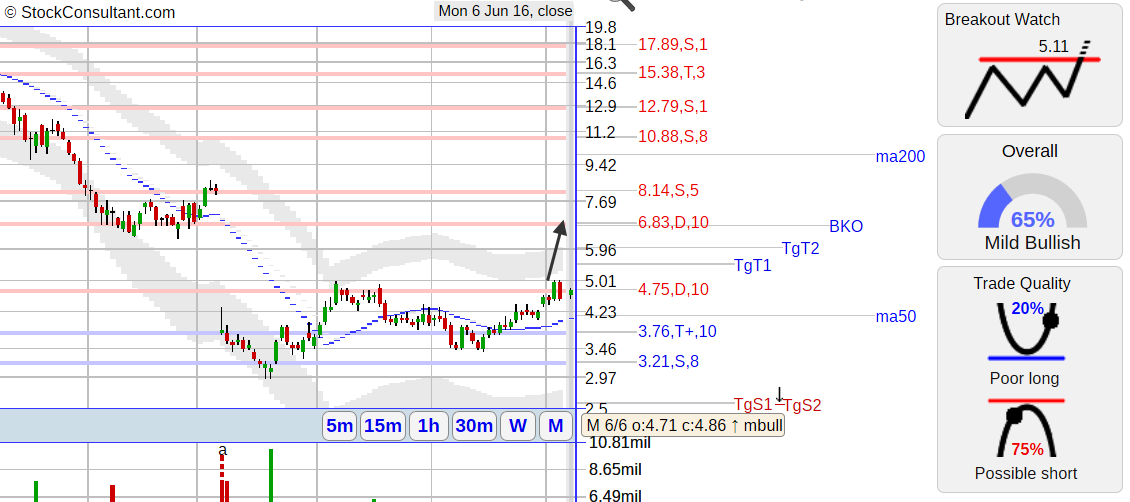 Full Chart Analysis and Quote on CLDX
About
The StockConsultant online tool since 1999 has provided detailed online technical analysis of over 6500 stocks. Each stock report contains price targets, stops, breakout levels, support and resistance, and scans for opportunities just like your own professional trader.
Home page: http://www.StockConsultant.com
This post has been seen 360 times.