Had it been a tropical cyclone, Louisiana storm likely among 10 costliest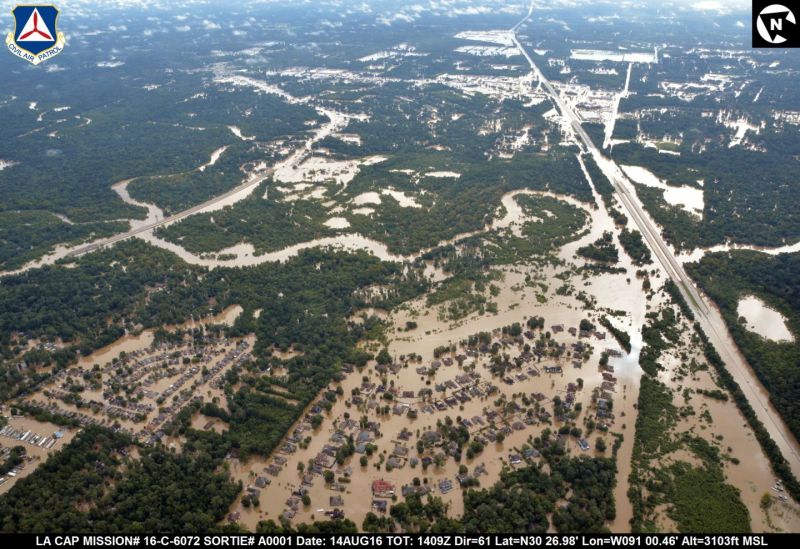 The first damage analysis of the slow-moving tropical system that deluged southern Louisiana last weekend is sobering. But for all the destruction it has caused, the low pressure system was not classified as a tropical storm or depression. Had it been a tropical cyclone, the storm would almost certainly rank among the 10 costliest hurricanes to strike the United States.
Louisiana newspaper The Advocate recently shared an analysis by the Baton Rouge Area Chamber. The analysis uses geographic information system data to study homes and businesses that had flooded in nine parishes in southeastern Louisiana. Some of the report's key findings include:
About 31% of homes (a total of 110,000 residences) within the nine parishes flooded.
The estimated value of homes located in flooded areas is $20.7 billion.
About 280,000 Baton Rouge metropolitan statistical area residents live in flooded areas.
As a region, a maximum of just 15% of all homes—not solely in the flood-impact areas—were insured against flooding.
Overall, 7,364 businesses employing 73,907 individuals are located in areas affected by floods. These represent 21% of businesses in the region.
Proportionally, businesses in Livingston experienced the most severe impact with 3,305 businesses that employ 27,653 employees in the areas of flood-impact, representing 91% of businesses and 94% of employees.
The $20.7 billion dollar figure for residential damages represents the estimated total value of residences in areas that flooded, not the actual damage. While that total will be significantly lower, this damage report does not include losses sustained to businesses, automobiles, or other personal items lost in the floodwaters. It will take some time before a total damage amount is released, which will include damage from insurers.
Read 3 remaining paragraphs | Comments
This post has been seen 167 times.