HP builds one desktop PC around a speaker, another in slices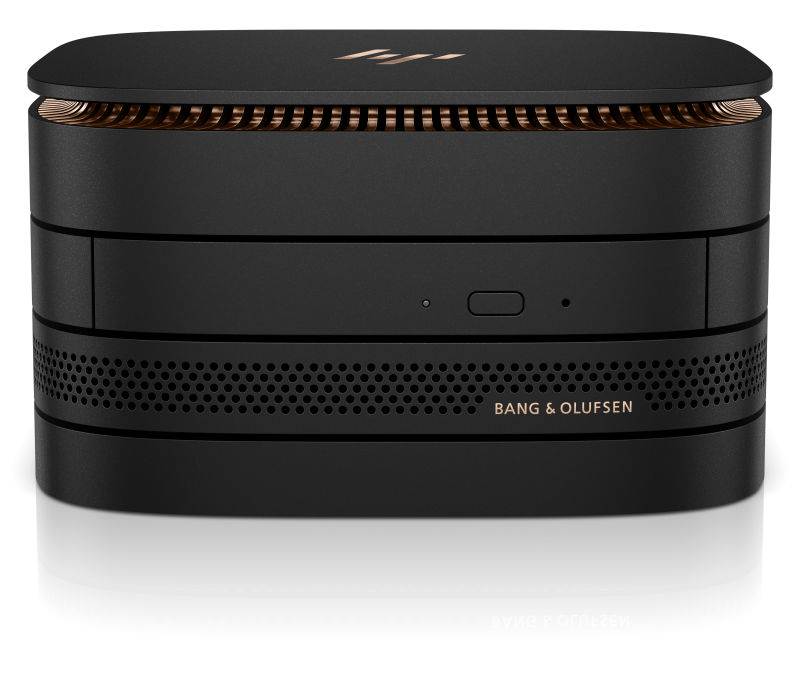 HP has announced today two new desktop PCs, both with some unusual form factors, in what it calls the "desktop reinvention." While laptops and all-in-ones have a long history of novel designs and advanced engineering, the traditional desktop has tended to be a rather less exciting category. Some systems have shrunk to take advantage of the increasing integration and decreasing power requirements that modern processors boast, but the plain-old mini-tower PC, still a corporate staple, has had little thought or attention given to its design over the years.
The HP Elite Slice is a corporate-oriented machine designed to be modular, taking advantage of USB Type-C for power and I/O. The base unit houses the actual PC in a unit measuring 6.5-inches square, and 1.4-inches tall. This houses all the major PC components—processor up to a 35W Core i7-6700T, RAM up to 32GB, storage up to 512GB NVMe, gigabit Ethernet, 802.11ac Wi-Fi—and a handful of ports. There's a USB Type-C for power, a second USB Type-C that also supports DisplayPort alternate modes, two USB Type-A, one DisplayPort, and one HDMI. Optionally, the side of the unit can sport a fingerprint reader.
The top cover of the main unit is modular, though not end-user changeable. As well as a plain cover, the main unit can have a wireless charging cover, so you can recharge your phone just by setting it on top of your PC; or it can have what HP calls the "collaboration cover," which contains a set of buttons (start/end call, volume up/down, and so on) for controlling a software phone such as Skype for Business.
Read 7 remaining paragraphs | Comments
This post has been seen 88 times.