Stand Up Comedy Every Friday Night At The Migration Museum During The Adelaide Fringe 2017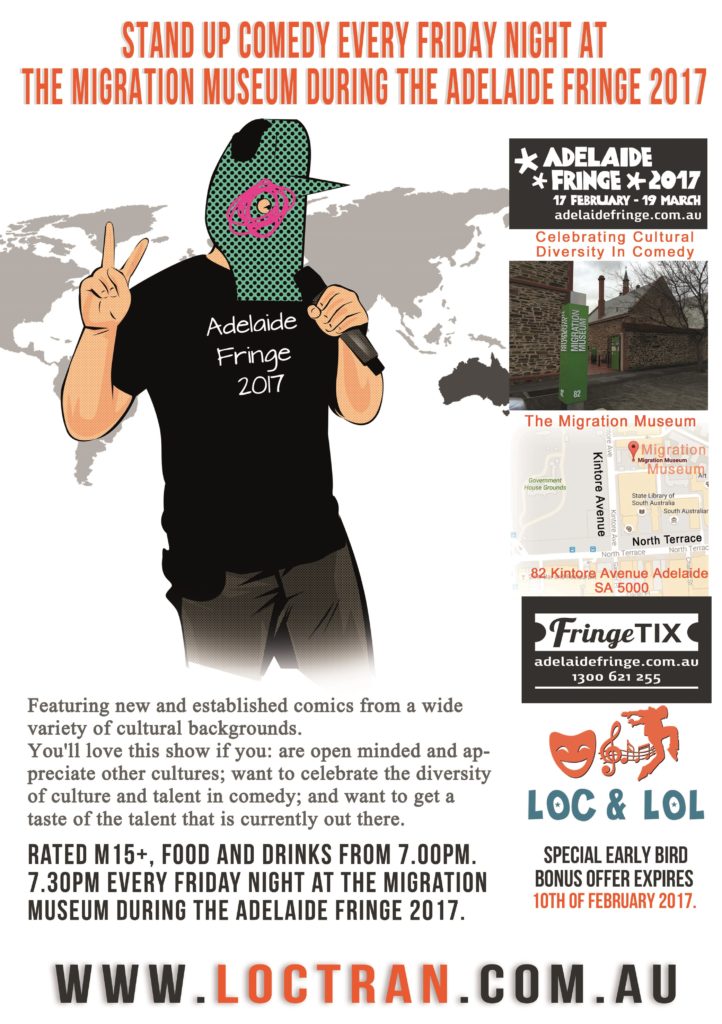 Did you know that more than 20%1 of South Australians were born overseas?
South Australians come from more than 200 different countries but how many of them are actually represented in the comedy scene?
It's a long road and many don't make it into the mainstream media but you'd be surprised at how culturally diverse the local comedy scene is!
With comics from many different ethnic backgrounds this show is a great way to get a taste of what is out there.
Stand Up Comedy Every Friday Night At The Migration Museum During The Adelaide Fringe 2017 is a celebration of cultural diversity in comedy.
Featuring new and established comics from a wide variety of cultural backgrounds.
You'll love this show if you: are open minded and appreciate other cultures; want to celebrate the diversity of culture and talent in comedy; and want to get a taste of the talent that is currently out there.
You'll hate this show if you: are closed minded and only interested in mainstream comedy; and don't want to support local talent.
This is more than just a comedy show.
This is a multicultural comedy experience with food and drinks also on offer.
The Migration Museum is located on Kintore Avenue just minutes walk from Rundle Mall directly across from the Government House Grounds and next to the State Library of South Australia.
Shows will be held inside the Chapel which has an "Art Gallery" style set-up with lots of wall space for visual displays.
The capacity of the Chapel is approximately 60 seats.
With food and drinks from 7.00pm and shows starting at 7.30pm every Friday night during the Adelaide Fringe 2017 (17 Feb, 24 Feb, 3 Mar, 10 Mar, 17 Mar).
There is also a special early bird bonus offer which expires on the 10th of February 2017.
For more info please refer to the official website… http://www.loctran.com.au.
Tickets are on sale now and are available from FringeTIX https://www.adelaidefringe.com.au/fringetix/stand-up-comedy-every-friday-night-at-the-migration-museum | 1300 621 255.
This post has been seen 537 times.